Step-by-step technical training
Learning outcomes
Learners will be able to gain basic knowledge on what a GPU is and how to replace it safely in a PC.
Tools
Articulate Storyline 360
Adobe Illustrator
Disclaimer: This training is for demo purposes only.
Keywords
Informative, technical, playful, easy to approach
Font
Bahnschrift, Open Sans
Image source
Freepik.com
As with majority of projects, I started the content design process with ideation with
pen and paper.
From there I continued to write a text based manuscript with
Google docs.
In this phase I normally start
sourcing and creating visual materials.
 I make notes how to adjust them to fit the project based on the look&feel requirements. 
Building the course
The course was built using
Articulate Storyline 360 authoring tool.
The learner is first taken through basic knowledge and precautions before a step-by-step guide.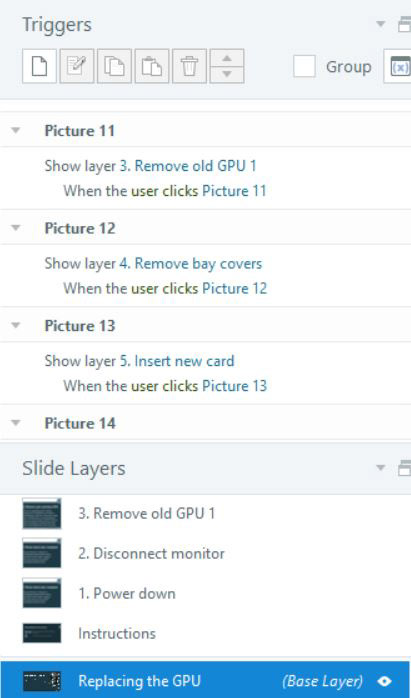 Testing & Proofreading
After the first demo the course was
tested by five test users
. They were asked to give their comments on the
- Content
- Navigation
- Interactivity
- Look & Feel
Some adjustments were then made based on the test users'
feedback.
Before publishing the course content was proofread by a native English speaker.
The final outcome is a
five minute elearning course.
The course can be published as a SCORM in an LMS or on a web browser. The course can then be taken with a
computer
or a
mobile device
.

When published in an LMS clicking the finish button will report the complete status of the course.